Free Resources
Educational Resources to Support High Quality Content Development
Content Development
Creating quality content is a complex process that starts with assembling a team consisting of the right mix of subject matter experts, instructional designers, writers, and editors. Whether developing assessment items, lesson plans, curricula, or training materials, being able to scope a project, execute it, and evaluate it for quality are paramount.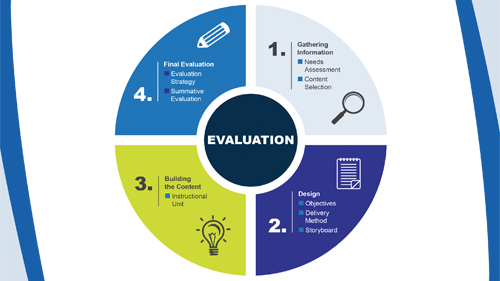 [Brief] Understanding the Curriculum Design Process in Four Steps
How is curriculum designed? What processes need to be in place for the curriculum design process to be as effective as possible? The curriculum design process involves four steps which take information from a subject matter expert and, through multiple iterations, create instruction.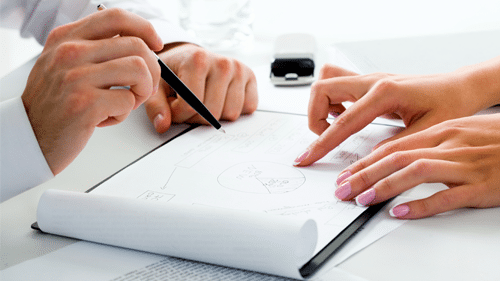 [Checklist] Evaluating Performance-Based Assessment Items
High-quality performance-based assessment items must be linked to learning objectives, ask students to accomplish realistic tasks, challenge students to consider multiple scenarios, demand high quality reasoning and more.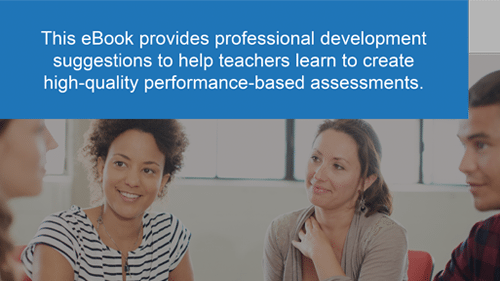 [eBook] Create Excellent Performance-Based Assessments
This eBook provides professional development suggestions to help teachers learn to create high-quality performance-based assessments. Teacher professional development is of increasing interest as one way to support the complex skills students need to succeed in the 21st century.
eLearning & Production
To meet the demand of providing quality, exciting eLearning experiences for students, institutions must practice sound instructional design when creating each online course. Effective eLearning is centered on the same instructional design principles as traditional learning, with minor enhancements for the digital environment.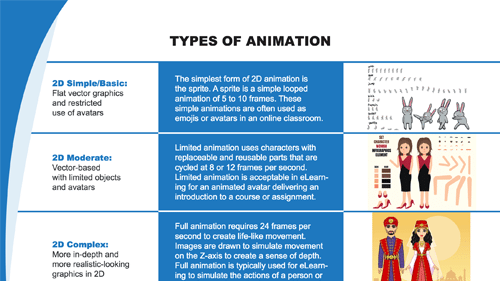 [Handout] Types of Animation
Understanding what the different types of animation are can help you plan and decide which type will work best for your course. Animation can be a great learning tool!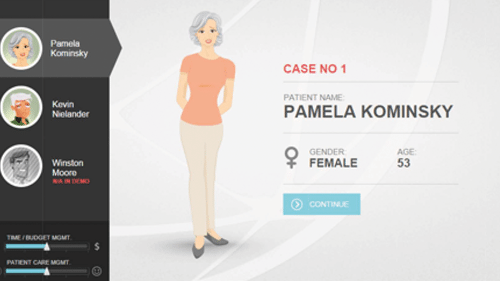 [Article] Assessments in eLearning
Assessment is an essential part of any course. Discover how to create useful assessments that complement your coursework and provide meaningful learning experiences.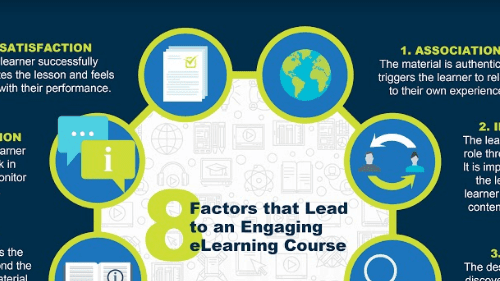 [Infographic] Engaging eLearning Courses
Course design is a critical factor in determining the quality, quantity, and type of interactivity. Check out this infographic and discover 8 factors that lead to an engaging eLearning course.
Partnering with a Vendor
Developing educational content is a complex process with many moving parts. This process becomes even more complicated when a company does not have enough time or resources to complete their project. A client-vendor partnership can solve this problem. Explore these resources to learn best practices for successfully partnering with a vendor.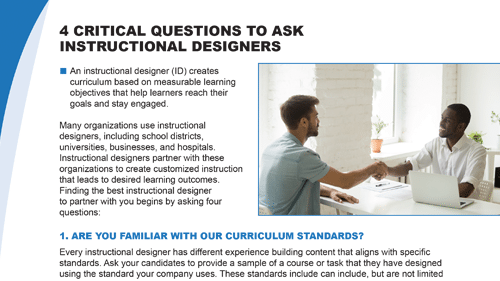 [Handout] 4 Questionsto Ask IDs
Instructional designers (IDs) partner with these organizations to create customized instruction that leads to desired learning outcomes. Finding the best instructional designer begins by asking four questions – Download this handout to learn more!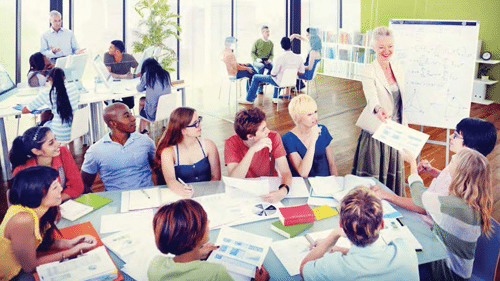 [eBook] Creating QualityEducational Content
Although there are seemingly limitless online sources claiming to allow you to create courseware cheaply, easily, and by yourself, the best courses are those created with expert teamwork, continual questioning of assumptions and information.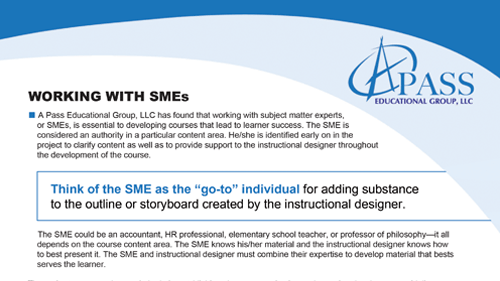 [Brief] Workingwith SMEs
We have found that working with subject matter experts (SMEs) is essential to developing courses that lead to learner success. Download this article to learn five best practices that we incorporate into our partnerships with SMEs.