The function of education is to teach one to think intensively and to think critically. Intelligence plus character – that is the goal of true education.
~ Martin Luther King, Jr.
To give students an education they can be proud of—and one that will help them thrive in the career of their choice—higher education institutions have a responsibility to stay current and marketable. One way the academy can accomplish this feat is to offer new degree programs that help them expand their reach and demonstrate their relevance in an already saturated educational market.
While program development can be an exciting adventure, it can also be overwhelming and a somewhat daunting and arduous undertaking. Whether an academic institution seeks to introduce a new discipline or make significant changes to an existing discipline, there are some key principles to keep in mind in the development of a degree program.
To ensure success of the new program, things such as program viability, fit within an existing program, available resources, administrative support, financial stability, clear academic vision and mission, and program viability must be taken into consideration. Although each of these components is of significance, there are two that top the list: clear academic vision/mission and program viability.
 

Clear explication of a degree program is vital to its success.

Imagine you and a group of your coworkers schedule a weekend ski retreat. It is likely that, in the absence of a clear purpose for the retreat, each person will attend the event with their own agenda in mind. One person may be there to explore the possibility of buying a vacation home. Another may hope to take lessons to improve their downhill skiing ability. Yet another may be hoping to purchase a honeymoon package at the resort. Without an agreed-upon vision and mission, it is virtually impossible for the group to move forward in any consistent or pragmatic way.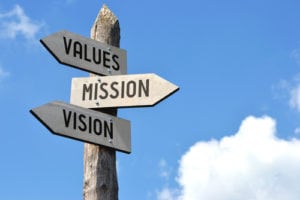 The same is true for a new degree program. In the planning stages, the leadership team in charge of the process needs to ask and answer questions such as:
What is the purpose of the degree program?

What specific goals is the degree program expected to achieve?

How does the new degree program align with the overall vision of the institution?

Who is the primary target audience for this new degree program?

What sets this program apart from similar programs at similar institutions?
Answering these questions and others will be instrumental to the clear establishment of the desired direction of the degree program, and will ameliorate the process moving forward. A clear academic vision and mission is essential to quality degree program development.
 

A degree program must be viable to be successful.

Every new academic degree program must meet viability standards to be measured over a period of three to five years. For example, any institution wishing to start a new degree program must ensure they can:
Attract and retain students

Cover cost of resources

Show sustainability through cost–benefit analysis
Essentially, the institution must demonstrate how the new degree program will benefit the community and the student in both professional and personal ways. Questions of viability are measured both financially and academically and, while economic profitability may be an indicator of program viability, it is not the only measure. Institutions must also consider factors such as:
Student learning objectives and outcomes

Market demand for students with the knowledge and skill set attained through the program

Stakeholder perceptions of and reception to the degree program, etc.
Program viability must be substantiated for quality degree program development.
Clear conception of a degree program, followed by evidence of program viability, will go a long way toward ensuring the successful launch of an institution's new endeavor. Completing the necessary front work prior to degree program development and implementation can be the difference between the program's success or failure.