They may be technologically obsolete, but legacy courses contain riches you don't want to leave behind in your eLearning development plans. New courses are ready to emerge from all those assets! If you transform rather than transfer legacy content, you can leverage those riches. Think personalized content, reusable assets, easily managed updates, participatory content creation. Translation: time savings, cost savings, and the educational benefits of a flexible, immersive, and interactive experience for the generation of students that are now demanding it.
Here are some rationales on making the yes/no conversion call for your eLearning legacy courses.
Select Your Courses
Target high quality, high demand legacy courses for your initial conversions. Doing this, it offers the potential for maximizing returns on your eLearning development by mining the best from the best.
Example: You have a course series no one has accessed recently written by a nationally recognized expert. Find out why. Lack of accessibility on mobile devices? Content outdated in places? Conversion can take care of both. If the courses are sound and in demand, put them on your list.
Establish Compatibility
Having all your eLearning courses under one authoring roof is a significant saving in efficiency when it comes to maintaining, updating, and keeping up with internal compliance requests. Battling a variety of proprietary authoring tools ends when your legacy courses are compatible with each other and with your learning management system (LMS).
Example: Your institution is updating its brand in honor of reaching a historic milestone. All courses are impacted. All courses are authored with the same tool. All courses use the same course intro template where the branding resides. This needed change can be made globally and quickly thanks to course compatibility, creating significant savings in time and resources.
Ensure Flexibility and Responsiveness
Today's learners demand an unprecedented degree of flexibility in where and how they take classes and complete assignments. They want to be able to access materials on a variety of mobile devices. They want to interact with classmates, the content itself, and the broader community of people in their field of study. They want learning to be a social activity. Flexible content and delivery are yours by converting legacy courses with a responsive authoring tool. You'll go a long way in meeting student needs and making your curriculum future-proof.
Example: You want to prequalify applicants by adding pre-tests to a set of certification courses, which requires manipulating every course. Most applicants live at some distance from the university and need to be able to take the pretest on any mobile device. The certification courses have been converted using a responsive authoring tool, which meets both needs efficiently. You save time, resources, and money along with an increase in certified graduates.
Turn Gold into Reusable Gold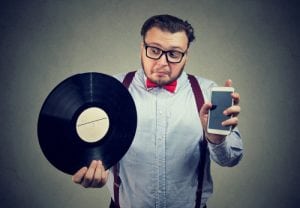 By taking legacy content apart, the cataloged pieces are available to be remixed, reused, and reimagined. You reduce unnecessary content and asset creation by reusing existing assets from your converted courses.
This approach takes the revamping of legacy courses to another level. To tap into and expand the payoff of conversion requires deconstructing text, visual, and audio assets into tagged, modular objects, so they are available for new contexts, courses, audiences, and learning objectives. You've given your eLearning development a considerable advantage with the ability to update and repurpose course content. As eLearning technology environments morph into new ones, you'll be prepared to respond without reinventing the wheel.
Example: Assets from undergraduate science classes are separated and stored in your LMS. All of the introductions to scientific discoveries can be pulled out to create a new overview course. Scans of early written works by scientific leaders can be aggregated and sequenced to show the evolution of scientific thought around the world.
Select your legacy courses wisely. Transform with a single, responsive authoring tool. Methodically deconstruct and catalog the content. Now your eLearning development teams have libraries of assets from which to draw in the creation of courses—eLearning as well as instructor-led and paper-based. You can maintain and update your courseware without duplication of effort or undue expense. By choosing an experienced vendor to guide this process, you'll garner all that resides in your legacy courses.