The year 2018 will bring innovative new developments in eLearning. The use of augmented reality and microlearning are just a few to look out for. Knowing these trends will help keep you ahead of the game and inspire your courses. Below are the top eight trends to look out for in 2018.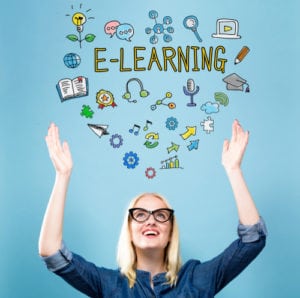 1. Location-Based Learning 
With a mobile device in hand, learners can receive educational content even in a natural environment. According to Metaari, a market researcher in education, this content is released when the learner reaches a specific location. First-responders can benefit from this innovative technology by testing their location-based knowledge in different facilities.
2. Mobile Learning
Mobile learning is on the rise according to figures from Metaari's Worldwide Mobile Learning Market Report. Out of 119 countries, 37 have seen a 20% increase over a five-year period. Students want easier access to educational content, and more learning institutions will need to adapt.
3. User-Generated Content
The 2017 Learning Benchmark Report from Toward Maturity looks at the factors that lead to successful learning in the workplace. The data was collected from over 6,000 organizations. The study reveals that user-generated content, such as videos showing best practices, benefits learners. Sharing and collaboration happen informally when users generate content.
4. Augmented Reality
Augmented reality offers new ways to help students tackle the difficulties in learning about size, ratio, and temporal relationships, to name a few. Researchers from the University of Southern Denmark implemented augmented reality in the classroom for a unit on the solar system. Students were able to see a 3D model of the earth compared to the sun from their cell phones. The study shows that augmented reality helped the students gain a better understanding of relationships in the solar system.
5. Microlearning
Microlearning is more than simply cutting one large video into pieces. Effective microlearning includes a clear objective and delivers to the student "just in time."  Whether it be on-the-job training or an interactive chart for a biology class, these short lessons can give the learner just what they need.
6. Learning Analytics
Learning Analytics is a powerful technological advance that collects, analyzes, and reports on data about learning. This data helps students and administrators understand learning outcomes and the environment in which they occur. According to research from the University of Phoenix, on a wider scale, you can compare the educational data to different industries in order to identify learning gaps. Identifying gaps can give students the information they need to succeed in the working world. In 2018, we could see this data being used to help customize the learner's path.
7. Changing LMS
Learners now demand that their LMS offer an engaging platform that is also easy to use, according to research conducted at the University of Anna. The traditional LMS often features many links and a heavy amount of text. Today's learners want an easy-to-navigate platform that doesn't feel cluttered. In addition to simpler design, learners also want the flexibility to use their own tools within the LMS and the ability to post anonymously.
8. Artificial Intelligence (AI)
There is a rise in the use of AI technology in the education field. Researchers at the University of Al-Azhar created and tested an AI tutoring system for computer science students. The system acted as a tutor and offered help to the students when needed. Students reported that the system was helpful in their learning. This type of assistance is likely to be implemented in more virtual classrooms.
It may not be possible to incorporate all of these trends into your eLearning course, but they can inspire you to think creatively and evolve your course with the changing learner in mind.  Now it is time to start designing a course that is sure to excite and challenge your learners!
Sources:
https://olj.onlinelearningconsortium.org/index.php/olj/article/view/790/201
https://scholarworks.iu.edu/journals/index.php/ijdl/article/view/22368/29786
https://tojdel.net/journals/tojdel/articles/v06i01/v06i01-05.pdf
https://www.ambientinsight.com/Resources/Documents/AmbientInsight-2014-2019-Worldwide-Mobile-Learning-Market-Executive-Overview.pdf
https://philarchive.org/archive/ALNAIT
https://towardsmaturity.org/2016/11/19/unlocking-potential-business-learning-benchmark/
A Pass Educational Group, LLC is an organization dedicated to the development of quality educational resources. We partner with publishers, K-12 schools, higher ed institutions, corporations, and other educational stakeholders to create custom quality content. Have questions?
Request Information