Creating an eLearning course can be a fun and rewarding project. A well-built eLearning course can produce essential performance outcomes and learning objectives for the intended learner. There are important aspects associated with eLearning production that begin with idea generation and end with the course as a final product.
One of the most important goals in developing an eLearning course is determining the course's main purpose and overall focus. This can seem challenging at first, but a well thought out purpose and focus will set the foundation for the rest of the development process.
The technology architecture is a process of eLearning production and helps ensure that the design is effective while providing a framework for development. The technology architecture process is the framework A Pass utilizes for successful eLearning course design, development, and implementation. A critical piece in early development is the proper selection of User Interface (UI) templates. The template of an eLearning course is the basis from which further development can occur; it ensures the course is relevant and easy to build upon.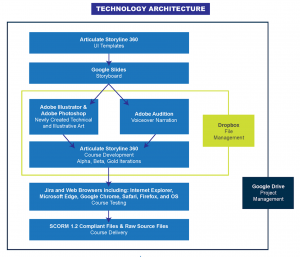 Building a foundation is made seamless in Articulate Storyline 360 due to the variety of UI templates to choose from. Choosing one of these well-designed templates will help with visual appeal and increase the probability of student engagement. Alternately, these templates can be custom designed based on predefined spec and client requirements. Collaboration with the client is critical during this early stage, as it ensures their vision is implemented
The Development Process
Creating a storyboard is where creativity comes alive. The storyboard is the time to plan out the course and put different design elements in place. An effective design element is storytelling that can positively engage learners, helping them relate to the overall lesson and learning objectives.
Imagine the storyboard as the blueprint for your course. There are different instructional design models such as the ADDIE model, which stands for Analysis, Design, Development, Implementation, Evaluation, to help guide you through the design process.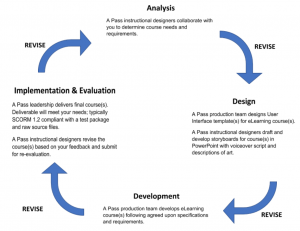 The developmental process consists of work produced during the analysis and design phase of the model. Once the storyboard is complete, the technical part of the development process begins. This can include:
Voice narration
Graphic creation and management
Interactivity and navigation implementation
There are three different stages during eLearning production: alpha, beta, and gold. Moving the course through the alpha, beta, and gold stages can sound like a daunting task, but each one has valuable benefits to the end result. Each stage can be summarized as follows:
Alpha: This is the first concept of the course, complete with subject matter expert material, graphics, multimedia, and interactivity.
Beta: In this stage, feedback and critical changes and recommendations are implemented. This version will be higher in quality and closer to final sign-off.
Gold: This is the final stage, in which the course is tested on a learning management system and presented for final sign-off.
The key for success at this critical part in the development process is to remember the original purpose and focus of the course. Find an engaging narrator to help keep the student's focus and their ability to retain the information. Choose graphics that visually connect the learner to the objectives. Realistic and relevant graphics will leave a lasting impression. Moving through the alpha, beta, and gold stages typically requires sign-off by a client or subject matter expert directly related to the overall learning project.

Usability and Testing
All the work completed up to this point may be wonderful, but the course must work across multiple platforms. This is where user testing comes into play. Possible platforms to test your course may include:
Multiple web browsers
Mobile devices
iPads and tablets
Different operating systems
Complete testing must ensure a positive and seamless user experience. As Andriotis suggests, the final step should be to test if your eLearning course design evokes emotion. This includes behavioral, visceral, and reflective emotions that will connect learners beyond the standard information-retention pedagogy.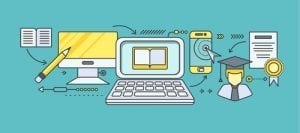 With each new project you work on, the information presented and the end user will be different. Following the processes outlined in this blog and following the elements of the technology architecture will set you up for success. Once all these processes are understood and prepared for, your creativity and design magic can occur.
Sources:
Andriotis, Nikos. eLearning Course Design: 10+1 Steps To Success. https://www.talentlms.com/blog/elearning-course-design-steps-success/. Accessed, May 8, 2018.
Hodell, Chuck. All About ADDIE. https://www.td.org/newsletters/atd-links/all-about-addie. Accessed May 18, 2018.
Who is A Pass?
A Pass Educational Group, LLC is an organization dedicated to the development of quality educational resources. We partner with publishers, K-12 schools, higher ed institutions, corporations, and other educational stakeholders to create custom quality content. Have questions?
Request Information