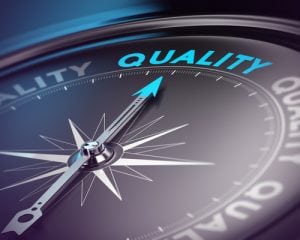 Any content developer can tell you that having a solid quality assurance (QA) process will ensure deliverables that hit the mark. From our years of developing educational content development, we've identified the following five keys to quality assurance.
Training
Both client-provided and in-house training can ensure that project team members are up to speed on what is required for a specific project. Senior project staff can rally a team's focus and confirm workflow readiness. Acceptance criteria checklists provide the development team with clear direction and requirements.
Calibration
Instead of jumping into a large project full-steam, it's helpful to begin with a small calibration batch to give the development team a chance to get accustomed to the specifications and the client a chance to ensure their requirements are being met. Feedback can be provided and utilized by the development team to hone their understanding and improve quality.
QA-Friendly Workflow
A development workflow with collaboration and built-in overlapping reviews adds another layer of vital QA. Multiple rounds of review and revision lead to high-quality deliverables. Building adequate cushioning into your staffing and timelines gives you the elbow room for thorough and efficient QA.
Sample workflow:
Writer creates educational content

Developmental editor checks against component-specific acceptance criteria

Developmental editor shares feedback with writer and requests any necessary revisions

Writer makes revisions, collaborating with editor as needed

Developmental editor reviews again and approves

Senior staff reviews a percentage of the content to ensure QA

Copyeditor proofreads, copyedits, and prepares deliverables for submission to client

Final 10% QA review by upper management prior to delivery
We've created a handy QA checklist that you can use when developing educational content.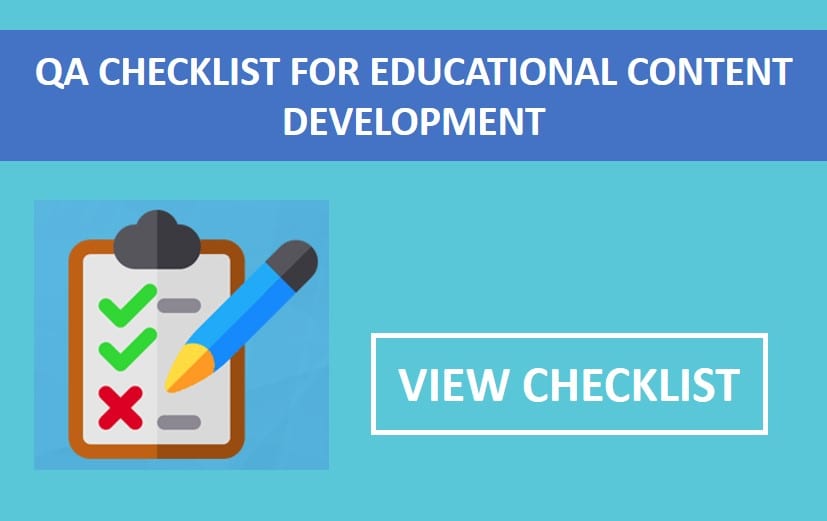 Standards
Quality assurance includes a documented standard and commitment to a process (workflow) to meet that standard. Projects may also include client-specific standards. Team members can review their work against these standards. It's helpful to provide the development team with the following resources so they can easily achieve excellent quality:
Exemplars

Style guide

Brand guide

Best practice guidelines

Detailed acceptance checklist
Layers of QA Review
Editorial and project leads apply their QA passes in layers. One QA pass may focus on content accuracy, another exclusively on style standards. A different reviewer looks carefully for placement consistency on the page or screen. Voice, instructional flow, and clarity of user instructions are equally important, especially when there are multiple writers on a development team. It's important to carefully examine the quality of final output for print materials (e.g., binding and usability), and test the functionality of digital components.
Benefits of QA
Here at A Pass Educational Group, we see consistent benefits for our clients and our development teams using this holistic, integrated approach to QA. Catching errors early (a habit to encourage) leaves time to enhance the product as needed. A broad and deep QA scope means offering an exemplary standard of educational content development. Some key benefits of thorough QA are:
Less stress for everyone

More professional products

Fewer client change requests

Improved usability of final materials

Minimal re-work of project components