Custom content development is much like building a custom home. If you had a choice, would you settle for a cookie-cutter home that's going to meet only some of your needs or a custom-designed one that incorporates all your unique needs?
Just as an architect spends time understanding why you want a certain type of window or flooring, a custom content developer acknowledges an organization's unique content needs.  We at A Pass know that a generic, off-the-shelf product or service is not going to work in most instances.  Our years of experience have taught us that great content development must recognize this need to successfully reach learners.  The depth and breadth of our experience helps bring your ideas to life quickly and exactly how you envisioned.  Here's a snapshot of what we do best.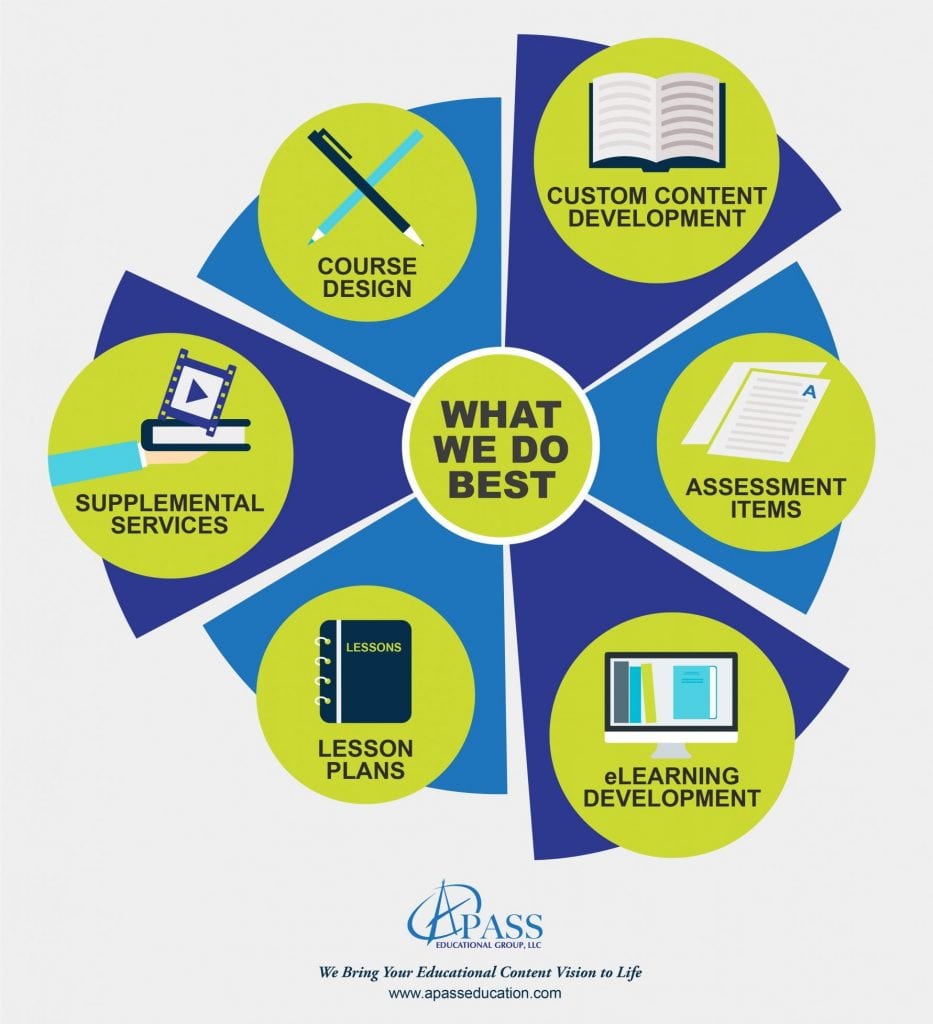 Courses and Lesson Plans
Course design and lesson plans are at the heart of good content development.  They are the vital roadmap necessary to reach your learners.  As a full-service content provider, we design, write, and produce content across grade levels and subjects, be it online or face to face.  A typical lesson plan includes a description of the standards and detailed teacher directions to deliver the lesson.  This early elementary lesson plan, aligned with the Next Generation Science Standards, is an example of a plan that incorporates several open educational resources (OERs) to enhance instruction.
Assessments
Assessments are critical to course development because they measure what learners know and are able to do.  Selecting the right type of assessment in itself requires experience.  Our content experts design assessments that align to specific standards or written resources.  For example, with online learning gaining wider adoption, technology-enhanced items (TEIs) leverage students' interest and comfort with technology to measure learning.  Here's a sample TEI for grade 9 science.  In addition to TEIs, we also craft these types of items across all subject areas and grades:
Short answer
Multiple choice
Extended response
Constructed response
Browse through our samples to see different types of assessments.
Supplemental Services
One of our other offerings is providing supplemental services such as data entry, asset review, and aligning OERs to existing content standards.  If you are a curriculum developer, you know the value of providing as many resources to instructors as possible.  Through rigorous fact checking and vetting, we create and/or select the right supplemental materials such as worksheets, videos, rubrics, and teacher guides to improve the overall quality of lessons and instruction.  Watch this video to see how we locate the right OERs.
eLearning
Custom content development wouldn't be complete without eLearning.  Gone are the days when learners kept clicking the Next button to complete a course.  Today's eLearning courses are constructed using sophisticated technology for increased learner engagement and improved learning outcomes.  We build eLearning courses that incorporate interesting videos, animation, interactive learning objects, and even technical and illustrative art. To round out the online learning experience, we select the right voiceover and script.  If you are considering jumping into an eLearning project, our services page is a must read.
Custom content development is built on the premise that a one-size-fits all approach just won't work to reach the most important person—the learner!  Using a complete suite of services that accounts for different needs will help build an effective curriculum or course, be it online or face to face.