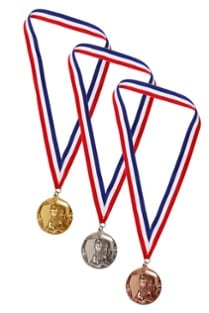 The BBC has published an article titled: "For US Olympians, gold medals come with a hefty tax bill." The article says that American athletes who win medals at the Summer Olympics in Rio de Janeiro receive a cash payment from the U.S. Olympic Committee (USOC). "Gold medalists will receive $25,000, silver medalists get $15,000, and bronze winners earn $10,000."
The article points out that the payments are taxed as income, which can vary depending on the income the athlete earns from other sources, such as product endorsements. An athlete in the top income bracket can expect to pay 39.6 percent of their winnings in taxes, which amounts to $9,900 for a gold medal, $5,940 for a silver medal, and $3,960 for a bronze medal. The article points out that multiple medal winners, such as swimmer Michael Phelps and gymnast Simone Biles, can expect a higher tax bill because each medal carries a separate tax bill.
The article further states that the value of the medals themselves is subject to being taxed. The gold medals are not actually made of gold, but are silver with gold plating on the outside. They are estimated to be worth $600, while a silver medal is valued at around $300, and a bronze medal—which is mostly made of copper—is worth about $4.
Read the article here.
Questions for discussion:
Is the amount of money generated for the United States government from these taxes significant? Why or why not?
The article states that a bill to end the taxation of Olympic medals has been passed by the United States Senate, but not the House of Representatives. Is this an important action for the House to consider? Give reasons for your answer.
The article presents a quote from Sen. Chuck Schumer of New York that most other nations don't charge their athletes for winning. Should the United States follow this example or should more nations impose a "victory tax" on their athletes? Explain why you feel this way.
The costs of Olympic training are generally paid for by the US athletes. Should this be paid for by the USOC? Or should athletes pay for their training? Give reasons to support your answer.