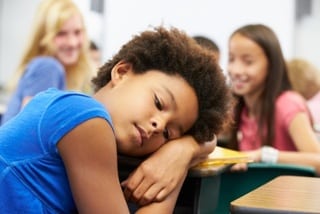 Fox News is running an article entitled, "Parents Blame Bullying After 11-Year-Old Cancer Survivor Commits Suicide." The article begins, "Bethany Thompson was left with an off-center smile after suffering nerve damage during a procedure to remove a tumor related to her battle with brain cancer. Eight years after defeating the cancer, the 11-year-old Ohio girl shot and killed herself after what her parents believe was relentless bullying over her smile."
The article adds, "(Bethany's mother) told the newspaper that her daughter had created anti-bullying posters, but an administrator prevented her from displaying them because they weren't positive.
Read the article here.
Questions to Consider
Why do you think that students would bully another student because of an off-center smile? What does bullying say about the student being bullied? What does it say about the bully?
What three conclusions can you draw from the graph in this article? How does the data in the graph support your conclusions?
Have you ever felt so upset that you did not think that anything could make you feel better? What happened to cause you to feel this way? What strategies did you use/could you have used to make yourself feel better?
When bullying occurs at a school do you think that the school administrators and teachers should be held responsible? Why/why not? Can the administrator and the teachers control the behavior of students in the school? Explain!