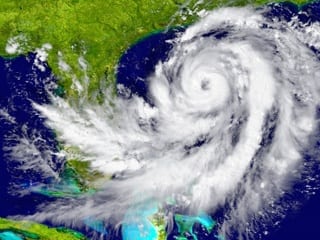 Reuters has published an article titled "Hurricane Matthew pounds Haiti and Cuba on path toward U.S." The article reported that "Hurricane Matthew dumped torrential rain across the island of Hispaniola that Haiti shares with Dominican Republic, where four people were killed by collapsing walls and mudslides. In Haiti, at least one person was killed." The storm is heading toward Florida's Atlantic coast and is expected to make landfall later this week.
The devastation inflicted upon Haiti has been described as "catastrophic." "The city is flooded, you have trees lying in different places and you can barely move around, the wind has damaged many houses," one Haitian official said. The United States has offered Haiti the use of helicopters to assist in the cleanup effort and may also send ships into the area. The full extent of the damage in Haiti is not yet known.
After tearing through Haiti, Matthew continued north through Cuba, where it passed near the US military base at Guantanamo Bay. The article points out that Cuban authorities "have spent days organizing teams of volunteers to move residents to safety and secure property."
As Matthew takes aim at Florida and South Carolina, the two states are taking precautionary measures. South Carolina Gov. Nikki Haley has ordered an evacuation of over a million people from coastal regions. Florida Gov. Rick Scott declared a state of emergency and put the state's National Guard on standby. President Barack Obama canceled a scheduled trip to Florida in anticipation of the storm preparations that are now taking place.
The article is available here.
Questions for discussion:
Is the United States right to offer cleanup assistance to Haiti? Or should its resources be directed toward American cities instead? Give reasons to support your answer.
Is mandatory evacuation a good idea? Or should individuals be able to decide whether to stay or leave before the storm arrives?
The financial losses from the storm—which could reach $10 billion or more— will place a significant strain on the insurance industry. How will these losses affect people in all parts of the country, including those who live far away from where the storm lands?
Sea levels are rising worldwide, and as a result Florida's long-term status is more endangered than most other places. Is rebuilding in Florida a wise move for those who may be affected by the storm? Or does it make more sense to leave Florida and live someplace else? Explain your answer to your classmates in a short persuasive speech.