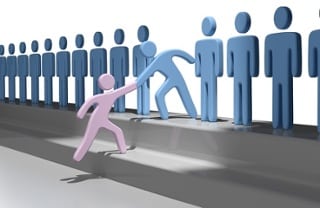 The New York Times published an article titled "G.O.P. Urges Donald Trump to Broaden Outreach to Black Voters." The article points out that a recent speech given by the Republican presidential nominee in Detroit demonstrates a lack of engagement with the African-American community: "He flew into the city on his private plane, got into his sports utility vehicle and motorcaded on highways past several black neighborhoods before reaching the downtown convention center where he addressed the heavily white Detroit Economic Club. Then he left without taking questions about the decline and nascent recovery of the country's automotive capital, a hub of black America."
The recent collapse of Republican presidential candidates among African-Americans—John McCain and Mitt Romney each received less than ten percent of votes among this constituency—means that Democratic candidates have an easier time winning the White House. The article points to a recent poll conducted by NBC News and other organizations for the 2016 election that shows Trump with 1-percent support among African-American voters.
The article claims that candidate Trump "has demonstrated little appetite to go outside his comfort zone." He has also rejected invitations to speak in front of influential groups such as the NAACP and the National Urban League. A communications consultant who worked with George W. Bush and Mitt Romney on outreach to African-American voters summed it up this way: "You have to do the bare minimum, and he's not even doing that."
Read the article here.
Questions for discussion:
1. The Trump campaign named Omarosa Manigault, a former contestant on Trump's TV show The Apprentice, as its director of outreach to African-American voters. Will this move help Trump's campaign appeal to more African-American voters? Why or why not?
2. Does Trump's past involvement with the "birther" movement—which claimed that Barack Obama was born in Kenya and thus was ineligible to serve as president—have any relevance to the 2016 election? Explain whether you think this is an important topic for voters to consider in this election year.
3. The article quotes a pollster who claims that Trump needs to receive support from at least 65 percent of white voters to win in November. Do you think he will be able to do this? Give reasons to support your answer.
4.  Why do you think Trump has refused invitations to address organizations that could help raise his profile with African-American voters? Should he continue this strategy through the election? Or should he agree to address these groups at some point? Explain why you feel this way.
5. The article states that Trump's promise to "make America great again" can be viewed in the racial context of an African-American family living in the White House. Do you agree or disagree with this interpretation? Explain your answer.
Who is A Pass?
A Pass Educational Group, LLC is an organization dedicated to the development of quality educational resources. We partner with publishers, K-12 schools, higher ed institutions, corporations, and other educational stakeholders to create custom quality content. Have questions?
Request Information