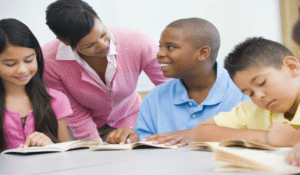 Severe weather events can be physically, mentally, emotionally, and financially devastating for families. As we've seen from recent weather events, storms can cause property damage, food and water scarcity, and, unfortunately, injuries and loss of life. Children may struggle to understand how to cope with the loss and destruction resulting from weather events such as tornadoes, hurricanes, wildfires, thunderstorms, floods, and blizzards. To supplement what students are learning at home about severe weather, educators should be ready to teach students about different types of natural disasters, where they occur, and how to prepare for them.
1. Types of Natural Disasters
Educators should be prepared to teach students about different types of natural disasters including those related to the weather and especially the events that take place most frequently where they live. In teaching the different types, it is important for educators to focus on:
What the weather event is and how it is formed
What terms are associated with each weather event
Where the weather event occurs
When the weather event tends to occur
The potential damage each particular event could cause
2. Natural Disaster Preparedness
It is imperative that educators not only teach students about the types of natural disasters, but also how their families can prepare for these disasters. Natural Disaster Preparedness can help students and their families with plans of action before the event occurs. This could curb the anxiety and fear that students may have about severe weather. Educators should:
Talk to students about how to spot the warning signs of a storm (dark clouds, large roaring sounds, hail, etc.)
Discuss why and how students and their families can create emergency shelter plans, emergency kits, and communications plans
Teach students how to access information about the weather event before, during, and after it has occurred
Discuss potential losses caused by weather events and where to go for help
Educators can play a major role in helping children and families learn about and prepare for natural disasters. Below are links to digital resources that can help schools and districts develop weather disaster education lesson plans and curriculum.
https://www.ready.gov/
https://www.wunderground.com/prepare
https://weather.com/safety
https://www.ready.gov/coping-with-disaster
https://www.apa.org/helpcenter/recovering-disasters.aspx
https://www.fema.gov/coping-disaster
https://www.forbes.com/sites/tarahaelle/2017/08/30/8-books-to-help-children-understand-disasters-and-cope-with-anxiety/#72b1783e42e9
Save
Who is A Pass?
A Pass Educational Group, LLC is an organization dedicated to the development of quality educational resources. We partner with publishers, K-12 schools, higher ed institutions, corporations, and other educational stakeholders to create custom quality content. Have questions?
Request Information