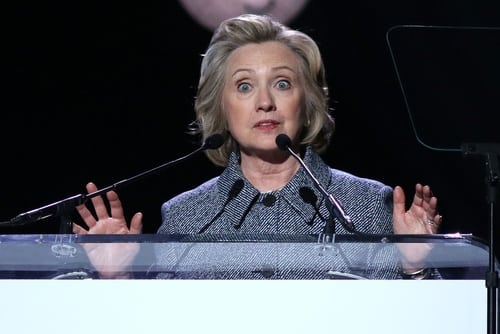 The Washington Post is running an article entitled "Clinton Celebrates Victory, Declaring 'We've Reached a Milestone.'" The article begins: "Hillary Clinton laid claim to the Democratic presidential nomination Tuesday night, making a full pivot to a nasty general-election fight against Donald Trump as she prevailed in a vigorously contested primary in California against Sen. Bernie Sanders."
It continues: "Clinton, the first woman chosen as the standard-bearer of a major American political party, celebrated the occasion with a forward-looking address to supporters in Brooklyn, not far from her campaign headquarters and just a few miles from New Jersey—where she defeated Sanders in the first of six states voting Tuesday."
The article adds: "Clinton offered a grace note to (Senator Bernie) Sanders and to his supporters watching her speech. 'I know it never feels good to put your heart into a cause or a candidate you believe in and come up short. I know that feeling well' . . . She said Sanders and the 'vigorous debate we've had' have been 'very good for the Democratic Party and for America.'"
Read the article here.
Questions for discussion:
Why did it take so long for a woman to win the nomination of a major political party for the Presidency of the United States? Is Hillary Clinton's victory meaningful as a statement of the role of women in the United States? Why/why not? What three things can we learn from Hillary Clinton becoming the presumptive nominee of the Democratic Party?
Do you think that Secretary Clinton truly wants to make amends with Senator Sanders? Why/why not? If you were advising Secretary Clinton, how would you recommend that she reach out to the senator? Why?
Senator Sanders has tens of millions of people who support his candidacy. Should the senator concede to Secretary Clinton now? Why/why not? If you were advising Senator Sanders, what would you suggest that he do now? Why?
Imagine that George Washington came back to life today. What do you think that he would say about Hillary Clinton securing the nomination? How would you respond to President Washington? (Consider challenging students to write a script for a discussion.)

Who is A Pass?
A Pass Educational Group, LLC is an organization dedicated to the development of quality educational resources. We partner with publishers, K-12 schools, higher ed institutions, corporations, and other educational stakeholders to create custom quality content. Have questions?
Request Information