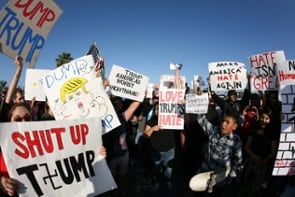 The Washington Post is running an article entitled, "Violence Erupts in Portland 'riot' as Anti-Trump Protests Continue in Cities Across the Nation." The article states, "Anger at the outcome of the election and a professed unwillingness to accept it are widespread on the Internet, despite the conciliatory words from Hillary Clinton and President Obama. Thousands of people have declared on social media that the president-elect is 'never my president' or 'not my president,' phrases that showed up on placards at protests. But only a relative few sharing that sentiment have actually taken to the streets."
The article continues, "The protests drew a rebuke from Trump, who met with Obama at the White House on Thursday morning. 'Just had a very open and successful presidential election. Now professional protesters, incited by the media, are protesting. Very unfair!' Trump said on Twitter, without specifying what he meant by "incited by the media."  The article later states, "Early Friday morning, Trump took a different tone, tweeting this message: 'Love the fact that the small groups of protesters last night have passion for our great country. We will all come together and be proud!'
Read the article here.
Questions for Discussion
Why do you think that the article states, "without specifying what he meant by "incited by the media."? Does the President-Elect's omission concern you? Why/why not? (Remember that Twitter constrains a writer to only 140 characters.) Do you think that people have an obligation to support their opinions with facts when they write them? Why or why not?
If you were to ask Mr. Trump any two questions about the comment that he made in the morning, what would you ask him? Why? How do you think that he would answer them? Why?
Do you think that it is acceptable to protest in the United States? Why or why not? Is it acceptable to destroy property when you are angry? Why or why not? If you had to write a code explaining the proper ways in which people can express anger and/or disappointment what would you write? Why?
What would you say to somebody who expressed great disappointment at the election of Mr. Trump? How do you think that this person would respond? (Consider asking students to write a hypothetical conversation.)
Who is A Pass?
A Pass Educational Group, LLC is an organization dedicated to the development of quality educational resources. We partner with publishers, K-12 schools, higher ed institutions, corporations, and other educational stakeholders to create custom quality content. Have questions?
Request Information