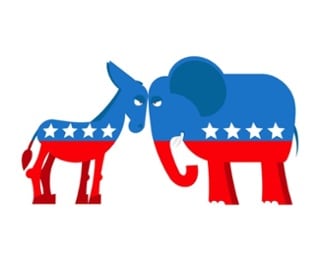 Los Angeles Times has published an article titled "Obama says Trump is 'unfit to serve,' and Trump threatens to walk away from leading Republicans." The article states that President Obama pointed out the repudiations of Trump by leading Republicans was undermined by their continuing support for his candidacy overall. "There has to come a point at which you say, 'Somebody who makes those kinds of statements doesn't have the judgment, the temperament, the understanding to occupy the most powerful position in the world,'" said the president.
The article goes on to point out that Trump's personal relationships with many Congressional Republicans present a challenge to the party's success in the upcoming elections. Trump has questioned the leadership provided by Paul Ryan in the House of Representatives, and a spokesman for Ryan replied that he has not sought an endorsement from Trump.
The article further explains that Trump has taken "a harder line" when it comes to Arizona Sen. John McCain, who has a reelection campaign for his Senate seat in 2016. "I've always felt that (McCain) should have done a much better job for the vets," Trump said. Trump also claimed that New Hampshire Republican Sen. Kelly Ayotte has offered him "zero support" in the state after Trump won the primary there earlier this year.
Read the article here.
Questions for discussion:
Is President Obama's criticism of Donald Trump's fitness to be president appropriate? Explain why or why not.
Are Republican leaders who disavow statements made by Donald Trump helping their party's chances of winning in November? Give reasons to support your response.
As the nominee of the Republican Party, should Trump personally reach out to the Republicans who are on the ballot for other elected offices? Is failure to do this a smart move for him, politically?
President Obama not only suggests Trump is unfit to hold the office of president, but he states it in the clearest of terms. What does this directness mean for the remaining three months of the campaign?
How could Trump's campaign provide help to other Republican candidates in the fall elections, and do you think he will work with them during the campaign? Be prepared to support your answer with examples from the reading.
Who is A Pass?
A Pass Educational Group, LLC is an organization dedicated to the development of quality educational resources. We partner with publishers, K-12 schools, higher ed institutions, corporations, and other educational stakeholders to create custom quality content. Have questions?
Request Information