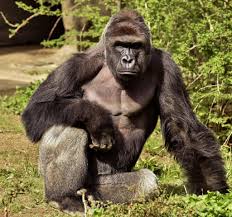 CNN is running an article entitled, "Cincinnati Gorilla Incident: Police Investigating Boy's Family." The article begins, "The family of a boy who entered a Cincinnati Zoo gorilla's enclosure last weekend — spurring zoo officials to shoot and kill the animal — will be the focus of an investigation into the incident, Cincinnati police said Tuesday." The article states, "CNN independently reviewed [United States Department of Agriculture] USDA records for the last three years, which is all that is maintained by the agency, and found nine findings where the zoo was out of compliance although none involved the gorilla exhibit."
Read the article here.
Questions to Consider: 
1. Do students think that mother should be prosecuted? Why or why not? Are parents responsible for their behavior of their children? Under what conditions?
2. Is a little boy's life really more valuable than that of a gorilla? Why or why not? (Help students see that human lives are always more valuable than the lives of animals. A corollary question would be: If a a stranger and your dog were both drowning and you could only save one of them, who would you save? Why? )
3. Is being out of compliance nine times in the last three years bad? Why or why not? Challenge students to support their answers. What if every other zoo was out of compliance twenty times in a three year period?
4. If students could write a different headline for this article, what would they write? Why? Which headline do they think is better, theirs or CNN's? Why?
Who is A Pass?
A Pass Educational Group, LLC is an organization dedicated to the development of quality educational resources. We partner with publishers, K-12 schools, higher ed institutions, corporations, and other educational stakeholders to create custom quality content. Have questions?
Request Information