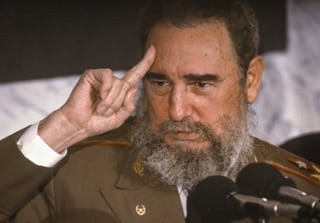 Fox News is running an article entitled, "Former Cuban leader Fidel Castro dies at age 90." The article begins, "Longtime Cuban leader Fidel Castro, the bearded, cigar-smoking Communist revolutionary who infuriated the United States, inspired both loyalty and loathing from his countrymen and maintained an iron grip on Cuban politics for almost 50 years, died Friday. He was 90."
The article explains, "The lawyer, revolutionary and political leader who triggered such visceral reactions was born August 13, 1926 out of wedlock to a Cuban sugar plantation owner and a servant in his home. (They eventually married.) He was not formally recognized by his father until he was 17, when his surname was changed to Castro from Ruz, his mother's name."  It adds, "After spending time in prison, Castro went into exile in Mexico, where he met Ernesto "Che" Guevara, who became his confidante…Castro established another guerrilla force and after several years of fighting, eventually defeated Batista in 1959, taking control of Cuba at the age of 32."
Read the article here.
Questions for Discussion:
Based on this article, how would you describe the life that Fidel Castro lived? What parts of this article support your answer? Do you think that people could disagree with your description and be correct? Why/why not?
If you were running for president, when Fidel Castro was still alive, and were asked what you would do immediately after hearing that Castro had died, how would you have responded? Why would you have responded in this way? How would this response have compared to the responses given by Mitt Romney and Newt Gingrich?
President Obama said, "History will record and judge the enormous impact of this singular figure on the people and world around him." What does this sentence mean? Do you think it was an appropriate statement for Mr. Obama to make? Why/why not? How do you think that history will judge Mr. Castro? Why do you think this?
According to the article, Fidel Castro said, "Men do not shape destiny…Destiny produces the man for the hour." What does this mean? Do you agree with Mr. Castro? Why/why not?
Who is A Pass?
A Pass Educational Group, LLC is an organization dedicated to the development of quality educational resources. We partner with publishers, K-12 schools, higher ed institutions, corporations, and other educational stakeholders to create custom quality content. Have questions?
Request Information