As educational publishers, we must be knowledgeable about the various types of students that will ultimately be affected by what we produce. Currently, the percent of English language learners (ELL) enrolled in the public school system is rising in the United States. ELL students come from many parts of the world and are a diverse group. Learning about what life in the classroom might be like for both teachers and ELL students is key.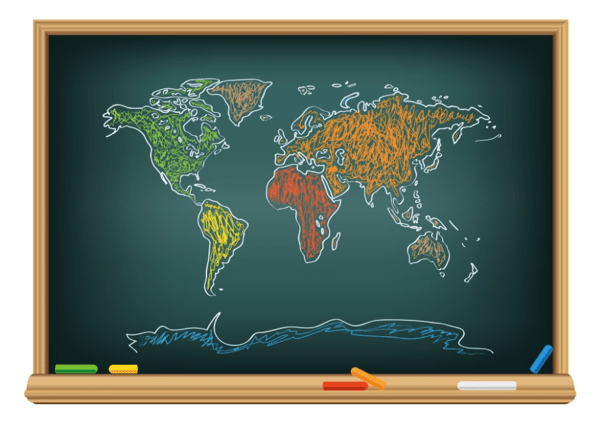 One of the most important things that an ELL student needs is a welcoming classroom environment. Teachers who recognize that each ELL student is an individual and then take it a step further to celebrate this individuality are priceless. As publishers, our curriculums and materials should also recognize and celebrate the diversity of ELL students. This requires learning about the backgrounds of the students who will be in the classrooms.
Every ELL student comes to the classroom with a unique story. We should never assume that students from similar parts of the world have the exact same backgrounds. The diverse backgrounds of ELL students have a great impact on their learning, and it is our job to get to know the students that we will serve. Many ELL students are brand new to the United States and may experience varying degrees of culture shock. Others have been here for quite some time but may not have a full command of English yet. Even those students who may be fluent in English may need help learning the specialized language that is associated with schooling in the United States.
Schooling in other parts of the world can be very different from this country. Many ELL students are more familiar with a teacher-centered form of instruction where lectures and rote memorization take center stage. Student-centered and cooperative learning may feel chaotic and overwhelming at first to ELL students. We must also keep in mind that some ELL students did not attend any school in their countries of origin. Therefore, they will not have first-language literacy to aid them as they embark upon learning English. Finally, many students may have difficult backgrounds that include having experienced the horrors of war and life in refugee camps. All of the above types of students will undoubtedly have to make many transitions and adjustments.
No matter how you look at it, attending school in the United States can be filled with many challenges for ELL students. It is our job to help make their transition easier by creating a welcoming and accepting classroom environment. This is just as true for a school that only has a few ELL students as it is for a school with a large population of ELL students. Here are a few ideas on how to include welcoming activities in your lesson plans and curriculum materials:
Allow time in the lesson for the teacher and other students to learn the correct pronunciation of each ELL student's name. Encourage teachers to ask for clarification if they are unclear on how to say the name.
Display a world map in the classroom and allow time for students to identify their countries of origin. Have all students create flags out of various materials to represent where they are from.
Encourage ELL students to teach the rest of the class a few words and phrases in their native tongue. This can help foster sensitivity for the difficulty involved with learning a new language. Post some of these words and phrases around the classroom for everyone to learn.
Decorate the classroom with posters and items that reflect both US culture and the cultures of the ELL students.
Employ a buddy system for lessons and activities, allowing English-speaking students to pair up with ELL students, and ELL students who speak the same language to pair up with each other. It is often important to allow for same-gender pairs for ELL students because of cultural differences. Provide training and set expectations for all students participating in a buddy system.
Include age-appropriate foreign films in lesson plans to help bring awareness of what life may be like for children in other parts of the world.
Include a study of proverbs from around the world to help all students learn about what is valued by various cultures.
Use stories, art, pictures, posters, and collages as lesson activities to help create an atmosphere of cultural sensitivity and awareness in the classroom.
It may take extra research and planning to create a welcoming environment for ELL students in the classroom, but it is well worth the effort. It is our job as educational professionals to do all in our power to reach each and every student. When ELL students feel welcome and accepted, they are much more likely to feel empowered to succeed not only in the classroom but in life!
How will you include the ELL student in your next set of lesson plans or curriculum materials?
Who is A Pass?
A Pass Educational Group, LLC is an organization dedicated to the development of quality educational resources. We partner with publishers, K-12 schools, higher ed institutions, corporations, and other educational stakeholders to create custom quality content. Have questions?
Request Information