On December 10, 2015, President Obama signed the Every Student Succeeds (ESSA) Act into law. This new statute replaces the No Child Left Behind (NCLB) Act of 2002 and also reauthorizes the Elementary and Secondary Education Act of 1965. Teachers, parents, and administrators all across the country hope to see positive results from the various changes that ESSA brings to the table.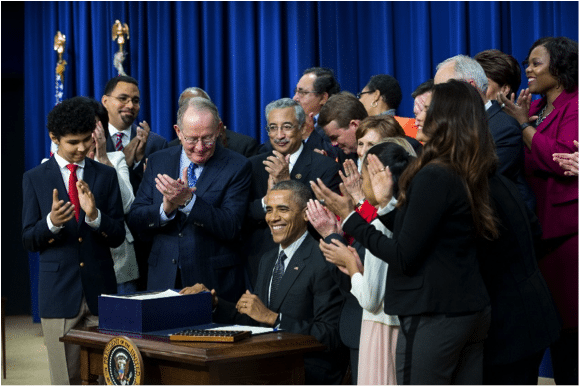 As educational publishers, it is important to stay abreast of major changes in law that will ultimately effect the work that we do and produce. Here is a brief look at ESSA and what it entails.
Quick Synopsis: ESSA departs from NCLB by returning significant power to state and local officials, while at the same time reigning in some of the power of the federal government.
Some Important Facts to Know About ESSA
State and Local Officials
State Departments of Education are granted the right to create their own paths for innovation and accountability, as well as institute curriculum, standards, and testing in their own ways. As a matter of fact, the new law allows for State Chiefs of Education to now work jointly with the Department of Education. This frees states up to develop and put into effect high quality standards and assessments as they see fit.
They can not only select their own accountability measures and create goals, but can also define their own technological and financial abilities/limitations with regard to keeping up with the new responsibilities. Furthermore, states are not under as much pressure to adopt the Common Core Standards. However, despite these important departures from NCLB, ESSA still requires that state standards be approved by the Education Secretary.
Annual Assessments
Every Student Succeeds maintains the requirement that states continue to assess student achievement annually in grades 3 through 8 and again in high school. This continues to be in exchange for Title I funding and other federal incentives. Schools are also required to publicly divulge student test scores on the basis of race, ethnicity, family income, disability status, and English-language usage.
Teachers, Parents, and Students
A major departure that ESSA makes from NCLB involves the idea of what constitutes a highly qualified teacher. NCLB defined this, whereas ESSA leaves it up to the states. ESSA allows for much less federal input into teacher evaluations. The Highly Qualified Teacher federal requirement has been thrown out. The days of Adequate Yearly Progress for schools are now a thing of the past. Teachers are expected to have more voice in local policy discussions.
ESSA suggests that parents can expect less testing, an experiential based approach to learning, and access to more effective teachers and schools. The new statute also classifies into law a preschool program.
Just how ESSA will impact students of all ages and grades across the country is yet to be seen. The goal of the new law is to improve the educational outcomes of all students. Only time will tell if this goal will be met.
Potential Impact on the Role of Educational Publishers
Clearly, ESSA will bring about a host of changes. It is essential that educational publishers pay close attention to how these changes will play out in the days, weeks, and months to come. Staying relevant has always been key to the usefulness of textbook and assessment publishers. This means accepting the reality of adapting our products to these various changes, while maintaining the high quality, creativity, focus, and rigor that the best educational publishers always value. Student-centered learning requires that we never lose sight of the fact that we are here to ultimately serve them.
Who is A Pass?
A Pass Educational Group, LLC is an organization dedicated to the development of quality educational resources. We partner with publishers, K-12 schools, higher ed institutions, corporations, and other educational stakeholders to create custom quality content. Have questions?
Request Information