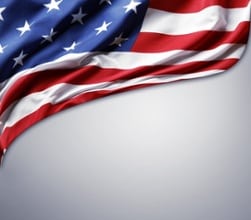 Slate has published an article titled "NFL's Kaepernick Sits for Anthem, Says Flag Represents 'Country That Oppresses Black People.'" The article states that Colin Kaepernick, who plays quarterback for the San Francisco 49ers, has refused to stand during the pregame playing of the national anthem for each of his team's preseason games this year, most recently against the Green Bay Packers on Friday night.
Kaepernick said "I am not going to stand up to show pride in a flag for a country that oppresses black people and people of color . . . To me, this is bigger than football and it would be selfish on my part to look the other way . . ."
Kaepernick's refusal to take part in the pregame ritual and his stated reasons for doing so have been interpreted by some people as being disrespectful to the United States. Kaepernick, however, is willing to accept backlash. "I am not looking for approval. I have to stand up for people that are oppressed," Kaepernick said. "If they take football away, my endorsements from me, I know that I stood up for what is right."
The 49ers released a statement defending their player's actions, stating that: "In respecting such American principles as freedom of religion and freedom of expression, we recognize the right of an individual to choose and participate, or not, in our celebration of the national anthem." The article notes that Kaepernick's gesture is diminished by his lack of playing time this season, and it questions whether other players will be inspired to follow his lead as the regular season begins.
Read the article here.
Questions for discussion:
Is Colin Kaepernick's decision not to stand during the national anthem justified? Explain why you feel this way.
Are Kaepernick's actions an issue that the NFL can—or should—become involved with as the 49ers play games in cities away from San Francisco this season? What can they do in response to this event?
The article mentions Kaepernick's lack of playing time. Does this take away from the importance of his gesture? Explain why or why not.
Do you think that other players will follow Kaepernick's lead and refuse to stand for the national anthem? Why or why not?
Who is A Pass?
A Pass Educational Group, LLC is an organization dedicated to the development of quality educational resources. We partner with publishers, K-12 schools, higher ed institutions, corporations, and other educational stakeholders to create custom quality content. Have questions?
Request Information