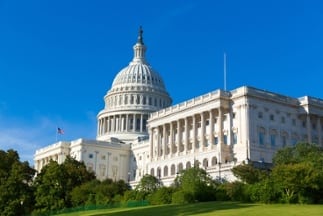 The Los Angeles Times has reported an article titled "Atty. Gen. Loretta Lynch deflects questions about Clinton emails." The article points out that her testimony came in the aftermath of the FBI's recent decision to not prosecute former Secretary of State—and presumptive Democratic presidential nominee—Hillary Clinton for using a personal email server to conduct government business. The decision followed a personal meeting between the Attorney General and former President Bill Clinton.
The article explains that Republican members of the House Judiciary Committee pressed the attorney general to explain why no charges were being brought by the Justice Department for behavior that has been characterized as "reckless." The attorney general stated that the final decision about prosecution was made by career FBI agents, rather than political appointees. Her refusal to personally analyze the case angered Republican members of the committee and was described by one member as "an abdication" of her responsibilities under the Constitution.
The article also points out that Democratic members of the committee focused instead on recent gun violence in Orlando, the killing of police officers in Dallas, and the need to repair relationships between police and minority communities. They also accused Republican committee members of keeping the issue alive in order to damage Clinton's presidential campaign.
Read the article here.
Questions for discussion:
Are the Republicans on the Judiciary Committee trying to use this issue to damage Clinton's electoral chances in November? How do you feel about this?
How is a career agent different from a political appointee when it comes to conducting investigations into political figures? How does the credibility of their work change, depending on who is doing an investigation?
The attorney general removed herself from the decision-making process after her meeting with former President Clinton. Was this an appropriate action to take? Why or why not?
Were the Democratic members of the committee trying to change the subject to protect Clinton, or are they correct that there are more important issues facing the country than her email server? Explain your reasoning.
Should the use of a private email server by Secretary Clinton be a major issue in the presidential campaign this fall, or are there more important issues facing the country, instead? What are some other issues for voters to consider between now and November?
Who is A Pass?
A Pass Educational Group, LLC is an organization dedicated to the development of quality educational resources. We partner with publishers, K-12 schools, higher ed institutions, corporations, and other educational stakeholders to create custom quality content. Have questions?
Request Information