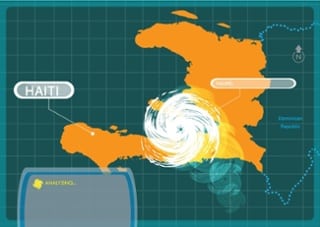 The Chicago Tribue has published an article titled "Health Conditions Worsen as Aid Trickles into Remote Haiti." The article points out that a week after Hurricane Matthew swept through the nation, thousands are suffering from the effects of cholera and a lack of medical supplies and medicine. The official death toll in Haiti was set at 372, but there is fear that the actual number will be far higher.
The article states that approximately 2.1 million people were affected by the hurricane and life-saving assistance will be needed in the next three months. "People will die soon if we don't get some aid," a health worker said. A doctor was quoted as saying "There's no water, no antibiotics . . . everything is depleted."
Complicating the relief effort is the lack of an orderly way of distributing supplies. The story points out young men are forming blockades between two hard-hit cities and preventing the arrival of relief supplies. An aid group attempted to distribute goods by boat in the seaside city of Les Anglais, but had to leave after a fight broke out.
The article is available here.
Questions for discussion:
With severe health crises in Haiti, an international response will be needed. Who should lead the response? How will they accomplish this?
Should the violence and resistance to aid distribution in Haiti derail relief efforts altogether? Or should a military component be included to ensure that assistance is received? Provide reasons to support your answer.