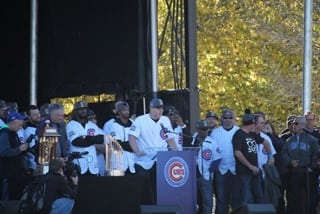 The USA Today is running an article entitled, "Cubs owner Ricketts revels in World Series: "Put lovable loser crap to bed.'" According to the article, Cubs owner, Tom Ricketts said, "Despite all of the successes of the year, had that (last World Series) game gotten away from us, the next morning's stories were going to be all about the Cubs losing again. Despite the fact it was Game 7 of the World Series against the Cleveland Indians, a really good team, after coming back from a 3-1 deficit, they were still going to write the story, 'The Cubs didn't win again.' It just goes to show you the unfair narrative the media was ready to go back to."
According to the article, "(Ricketts) thought of Marilyn Kuebler, the Cubs' 80-year-old usher, who he hugged before every single home game, until she died two weeks before the regular season ended. She was buried in her usher uniform, and on the back of her prayer card was not a Bible verse, but the words to their victory song, Go, Cubs, Go."
The article explains, "It has been precisely two weeks since winning the World Series, but it's now time for the Cubs to get back to business. There's a new budget for president Theo Epstein and his staff, which Ricketts says will be slightly higher in 2017. Yes, there soon will be the announcement of ticket-price increases, you know, to watch a World Series champion. They are trying to complete their new office building at Wrigley by opening day. The bullpen mounds, for the first time, will now be moved underneath the bleachers. Construction will begin for a new Home Plate Club that will seat about 1,200. A new hotel is going up across the street. Even changes, perhaps ever so slight, to the cramped visiting clubhouse at Wrigley."
Read the article here.
Questions for Discussion:
Why do you think that people become loyal to sports teams? What teams do you like? Why?
What lessons can we learn from the events in which Steve Bartman was involved that can be applied to other aspects of life? Why do you say this?
If you had the opportunity to design a major league stadium, what would you want it to look like? How would you make your stadium different than other stadiums?
In what ways is money important to the owner of a professional sports team? Of course the owner wants to make money, but what does he/she have to do to earn the most money possible?