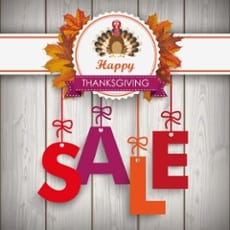 USA Today has published an article titled "Will malls, retailers give shoppers Thanksgiving off?" The article reported that the recent announcement by the management of Mall of America to close on Thanksgiving Day this year "could put pressure on major retailers to follow suit and return the national holiday to a day of food, family and football."
The decision by the mall goes against recent trends toward more retail activity on Thanksgiving Day. "The pressure has been on for chains to get the masses started (shopping) even earlier, on Thanksgiving Day itself, rather than have them sit at home and shop on their computers." A survey by the National Retail Federation in 2015 found that "41 million shoppers said they started their gift buying adventures online on Thanksgiving Day."
It remains to be seen whether large national retail chains will follow Mall of America's lead. For example, Walmart began opening its stores for Thanksgiving in 1988, and it says that in 2013, 22 million customers came through its doors on Thanksgiving Day. The company has not yet announced its Thanksgiving Day plans for 2016.
The article is available here.
Questions for discussion:
Do you think the store owners inside Mall of America are pleased with this decision? Or do you think they would rather be open on Thanksgiving Day? Provide reasons to support your answer.
Are retail workers at the stores that will be closed on Thanksgiving more likely to appreciate being with their families? Or would they rather have the opportunity to work and make money? What would you prefer in this situation?
Have you ever gone shopping on Thanksgiving Day? What was it like?