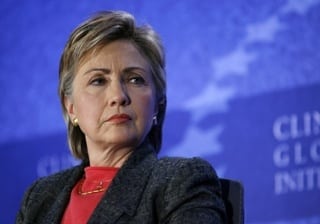 The Independent has published an article titled "Hillary Clinton must reassure an uncertain nation that she is in good medical shape after 9/11 memorial scare." The article advised Clinton, the Democratic Party's nominee for president, that "if there is anything we don't know about your state of health, including what happened exactly on Sunday morning . . . get it all out now." At a memorial service in New York commemorating the Sept. 11, 2001, terrorist attacks, Clinton left early and was seen struggling to get into a vehicle. It was later revealed that she had been diagnosed with pneumonia on Friday, and her unsteadiness was related to this condition.
The article, in making reference to the email controversy that has continued to follow her campaign, states that: "The mess over the private email server [Clinton] used while Secretary of State wouldn't still be the number one preoccupation of [her] political enemies if only [she] hadn't been so reluctant to admit . . . errors at the outset." In other words: Once the truth about the emails finally came out, her previous answers were revealed as being incomplete, and her credibility suffered. The article goes on to state that Clinton "can't afford another bout of protracted speculation about her medical well-being."
Clinton's main opponent in the presidential race is wasting no time capitalizing on the issue. "Even before Sunday Donald Trump had been deliberately posing questions about his rival's health and stamina, most recently when she was seen having a coughing fit while trying to talk to reporters on her plane," the article reports. Cited is a recent poll that found "almost 60 percent of American voters think that presidential candidates should release their most recent medical records before the country goes to the polls." Because Clinton is 68 years old and Trump is 70, their medical conditions will likely remain an issue to many voters during the fall campaign.
The article, and a video of Clinton leaving the event, is here.
Questions for discussion:
Should Clinton's diagnosis of pneumonia have been shared with the public after it was made last Friday? Does the voting public have a right to know about this before the election? Give reasons to support your answer.
The article calls on Clinton and Trump to release more of their medical information. Do you agree with this? Explain why or why not.
Is the age of the two candidates something voters should consider? Explain why you think this way.
Clinton canceled a campaign trip to California. Is this a sign of excessive medical issues, or is she being wise in order to preserve her health? Explain your reasoning.
If either candidate is unable to continue with his or her campaign—for health reasons or any other cause—what should happen with that party's nomination in the November election? Should the party nominate the vice presidential candidate as president, or should they be prevented from having any nominee placed on the ballot? Be prepared to debate against other students who may not agree with you on this topic.